Yule Time Lilian




Rarity
★★★★★
Cost
41
Nation

Sanctus

Type

Gypsies

Combo Type
Release Date
Unknown
"Miss, how about we go somewhere else that's a bit safer to be pirates? Of course, I don't want you to be a pirate at all, but you don't want to listen to me!"
— Yule Time Lillian
[Limited Yule Card]Lilian is a witch who sets off in search of the young lady she serves that had ran away. She ended up traveling with her lady who refuses to return home. She is a cheerful teenage girl who never sees hardship as unfortunate events.
Attack:
Lvl 1 : 4100
Max  : 8925
Max+: 11602

Growth: +40/50/60
Defense:
Lvl 1 : 2700
Max  : 4850
Max+: 6305

Growth: +20/20/20






Growth Progression: [2-16][17-36][37-60]
Skill: none


Enhance Value:
500 experience
Dismiss Value:
4920 pence
Acquisition
Edit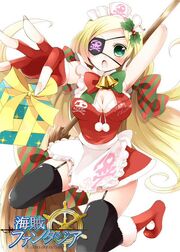 Ad blocker interference detected!
Wikia is a free-to-use site that makes money from advertising. We have a modified experience for viewers using ad blockers

Wikia is not accessible if you've made further modifications. Remove the custom ad blocker rule(s) and the page will load as expected.