Encounter Message: ?
Lose Brawl: ?
Win Brawl: ?
"Lilian nags like she's my mom. I do miss home. But I can't go back anymore now. I am not done traveling anyways."
— Yule Time Ebony
[Limited Yule Card]A witch who likes to pull pranks that are over the top and was expelled from her own homeland. She scolded her servant who moved her citizenship to Maquina. She loves to use the gun she recently got.
Attack:
Lvl 1 : 1150
Max  : 2912
Max+: 3785

Growth: +20
Defense:
Lvl 1 : 3450
Max  : 8000
Max+: 10400

Growth: +50






Growth Progression: [2-60]
Skill: none


Enhance Value:
500 experience
Dismiss Value:
2169 pence
Acquisition
Edit
-Grand prize for the Battle Royale Event raffle between January 25, 2013 and January 28, 2013.
-Awarded to zombiekiller (2x), GS Rosstein (2x), Dream of Iris (2x), Bree Olson & Fatdragon from the Goddess Hall of Fame Event during the Gods & Mortals Event.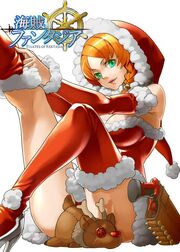 Non-English details

Japanese name
Chinese name
Voice file
Voice actor (J)
何直美
Voice actor (E)
Nan Naomi


Ad blocker interference detected!
Wikia is a free-to-use site that makes money from advertising. We have a modified experience for viewers using ad blockers

Wikia is not accessible if you've made further modifications. Remove the custom ad blocker rule(s) and the page will load as expected.