"We can be more powerful if all our followers send us prayers at the same time we will die faster, what an irony. Whoever survives will lead the world. Until the day we part, we should make peace with each other."
— Witches of Destiny Alma & Isola
They are the witch sisters of Myhtria. They've gathered lots of believers and their power grew to be as strong as the Divine Empress. One of them is destined to become God's vessel, and the other one is destined to die.
Attack:
Lvl 1 : 3900
Max  : 10975
Max+: 14267

Growth: +50/60/70
Defense:
Lvl 1 : 2700
Max  : 5350
Max+: 6955

Growth: +20






Growth Progression: [2-26][27-41][42-80]
Skill: Essence of Kalaam
Sanctus ATK +20%

Enhance Value:
1000 experience
Dismiss Value:
? pence
Acquisition
Edit
- Personal rankings reward during The Rainbow Guardian Event




Non-English details

Japanese name
運命の巫女 アルマ&イソラ
Chinese name
命运之女巫阿露玛&伊索拉
Voice file
Voice actor (J)
Voice actor (E)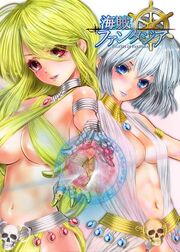 Ad blocker interference detected!
Wikia is a free-to-use site that makes money from advertising. We have a modified experience for viewers using ad blockers

Wikia is not accessible if you've made further modifications. Remove the custom ad blocker rule(s) and the page will load as expected.