Encounter Message: Christmas is over! It was over six months ago!
Lose Brawl: You're guard is really sloppy you know!
Win Brawl: OWWW! Gimme a break!
"It was easy for me to get all these toys and desserts. People's usually don't get their guards up high for these type of things. I don't think them loots for adults are my thing."
— Whimsical Lily
[Limited Yule Card]A girl that had always admired Santa Claus. She was thinking about delivering the stuff she had stole[n] to kids for Christmas. She is working hard to become the pirate that sends gifts to all the kids in the world.
Attack:
Lvl 1 : 3450
Max  : 8000
Max+: 10400

Growth: +50
Defense:
Lvl 1 : 1150
Max  : 2912
Max+: 3785

Growth: +20






Growth Progression: [2-60]
Skill: none


Enhance Value:
500 experience
Dismiss Value:
2160 pence
Acquisition
Edit
- Defeat Whimsical Lily 20 and 40 times in Gathering of Powerful Foes Event (Part 2).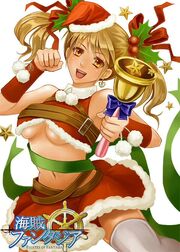 Non-English details

Japanese name
Chinese name
反复无常的莉莉
Voice file
Voice actor (J)
Voice actor (E)


Ad blocker interference detected!
Wikia is a free-to-use site that makes money from advertising. We have a modified experience for viewers using ad blockers

Wikia is not accessible if you've made further modifications. Remove the custom ad blocker rule(s) and the page will load as expected.