Thunder General Hardy




Rarity
★★★★★
Cost
49
Nation

Maquina

Type

Bounty Hunters

Combo Type
Release Date
Unknown
"Magic? Swords? Who cares! Both of those things are falling behind. Firepower is what's going to reign supreme, mark my words."
— Thunder General Hardy
Hardy is one of the top generals of Maquina. She lost half her body during the Divine Empress' invasion, but she was rebuilt as a cyborg. She leads a cannon squad, supporting her allies from behind.
Attack:
Lvl 1 : 4350
Max  : 8018
Max+: 10423

Growth: +35
Defense:
Lvl 1 : 4050
Max  : 7643
Max+: 9935

Growth: +35






Growth Progression: [2-60]
Skill: Strategic Mortar
Maquina ATK +20%

Enhance Value: 500 experience
Dismiss Value: 5880 pence
Acquisition
Edit
Bonus Story Information
Edit
Related to Bonus Story 59 for Pixie Archer x1 - no additional requirements.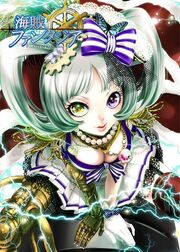 Ad blocker interference detected!
Wikia is a free-to-use site that makes money from advertising. We have a modified experience for viewers using ad blockers

Wikia is not accessible if you've made further modifications. Remove the custom ad blocker rule(s) and the page will load as expected.