"Are you sure you don't want to run away? I might just let loose, and you wouldn't like to see that. You wouldn't fare well. "
— Thousand Calamities Skull
Skull was born under the protection of demons, and his very existance is a source of disasters. He actually rather enjoys visiting misfortune on others.
Attack:
Lvl 1 : 4580
Max  : 12212
Max+: 15876

Growth: +50/+60/+70/+60
Defense:
Lvl 1 : 2400
Max  : 5100
Max+: 6630

Growth: +20






Growth Progression: [2-26][27-41][42-81][82-85]
Skill: Guardian Devil
Alliance ATK +20%

Enhance Value:
1000 experience
Dismiss Value:
? pence
Acquisition
Edit
- Event/Tidal rescue or Gather 20 Ancient Pages rescue during the Pirate Tales Event
- Trade 9000 Ribbons of Glory in Ribbon Exchange Hall during the Mini-Event Test of Glory
- Personal Ranking Reward during Flash Brawl (October '14)
Previous Skull stats:
Cost = 35
Attack:
Lvl 1 : 3600
Max  : 10987
Max+: 14283

Growth: +?
Defense:
Lvl 1 : 2400
Max  : 5100
Max+: 6630

Growth: +?






Growth Progression: ?
Skill: ?
The Alliance ATK +20%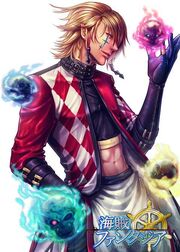 Non-English details

Japanese name
千の惨禍スコル
Chinese name
Voice file
Voice actor (J)
江越彬紀
Voice actor (E)


Ad blocker interference detected!
Wikia is a free-to-use site that makes money from advertising. We have a modified experience for viewers using ad blockers

Wikia is not accessible if you've made further modifications. Remove the custom ad blocker rule(s) and the page will load as expected.