"Now, the battle is about to begin. Bring out the Five Tigress Generals and the Eight Blades! Those polished weapons will have no mercy on our enemies! I'll name the person who brings me the most heads as the next Legionnaire!"
— The Legionnaire Elsa
This powerful warrior was strong enough to muscle her way into leading an entire nation. She hopes to find the Blade of Tartarus to slay the Immortal Dragon and free the people of Bellator from its fury.
Attack:
Lvl 1 : 4900
Max  : 10075
Max+: 13097

Growth: +40
Defense:
Lvl 1 : 4700
Max  : 9825
Max+: 12772

Growth: +40






Growth Progression: [2-80]
Skill: none


Enhance Value:
1000 experience
Dismiss Value:
6300 pence
Acquisition
Edit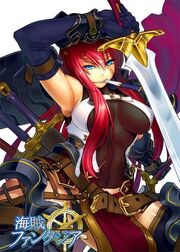 Non-English details

Japanese name
神将マスターエルザ
Chinese name
神将首领伊莉莎
Voice file

Voice actor (J)
喜多村英梨
Voice actor (E)
Eri Kitamura


Ad blocker interference detected!
Wikia is a free-to-use site that makes money from advertising. We have a modified experience for viewers using ad blockers

Wikia is not accessible if you've made further modifications. Remove the custom ad blocker rule(s) and the page will load as expected.