"You fool! I won't wear such a vulgar costume! Y-Y-Y-You're going to be executed! I'll purge you with my own hands here and now!"
— Swimsuit Perlina
Perlina is the Divine Empress of the magic nation of Sanctus. Since Artessa told her that even the ruler of a nation needs an occasional break, she reluctantly went to the seaside. She's wering a swimsuit for the first time, as Artessa insisted it was required. Even if the wind carries her hat away, she won't relinquish her ice cream.
Attack:
Lvl 1 : 7000
Max  : 13700
Max+: 17810

Growth: +40
Defense:
Lvl 1 : 7000
Max  : 13700
Max+: 17810

Growth: +40






Growth Progression: [2-100]
Skill: Spring Goddess SD
ATK +100%

Note: Skill has a 100% activation rate from April - May 15. It has a 5% activation rate every other month.
Enhance Value:
2000 experience
Dismiss Value:
? pence
Acquisition
Edit
- Step-Up Rescue during The Lost Codex Event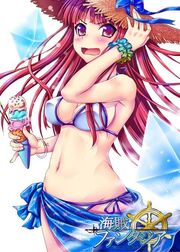 Non-English details

Japanese name
天帝スノードロップIV
Chinese name
天帝雪花莲IV
Voice file
Voice actor (J)
ささきのぞみ
Voice actor (E)


Ad blocker interference detected!
Wikia is a free-to-use site that makes money from advertising. We have a modified experience for viewers using ad blockers

Wikia is not accessible if you've made further modifications. Remove the custom ad blocker rule(s) and the page will load as expected.