"I'd been planning to train like everyone else, but I'd rather not be so... exposed. Also, I'll need you to take care of Idola. She had a rather severe nosebleed."
— Swimsuit Jorgina
The Gearsmith is the ruler of the Mech Nation of Maquina. Having completed an inspection, she is visiting the sea side. Since Idola warned her not to underestimate the sun, Jorgina relented and is wearing a lovely summer dress.
Attack:
Lvl 1 : 7000
Max  : 13700
Max+: 17810

Growth: +40
Defense:
Lvl 1 : 7000
Max  : 13700
Max+: 17810

Growth: +40






Growth Progression: [2-100]
Skill: Spring Goddess BW
ATK +100%

Note: Skill has a 100% activation rate from April - May 15. It has a 5% activation rate every other month.
Enhance Value:
2000 experience
Dismiss Value:
? pence
Acquisition
Edit
- Step-Up Rescue during The Lost Codex Event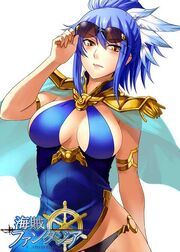 Non-English details

Japanese name
大総統バグワームⅣ
Chinese name
大统领巴格沃姆Ⅳ
Voice file
Voice actor (J)
Voice actor (E)


Ad blocker interference detected!
Wikia is a free-to-use site that makes money from advertising. We have a modified experience for viewers using ad blockers

Wikia is not accessible if you've made further modifications. Remove the custom ad blocker rule(s) and the page will load as expected.