"Being small comes in handy sometimes! Watch! Oh, shoot. I'm stuck!"
— Swabbie Kali
An amateur pirate still in training. Her mother was Driller Palti, a rival to the Pirate Queen.
Attack:
Lvl 1 : 1950
Max  : 4687
Max+: 6093

Growth: +30/40/50
Defense:
Lvl 1 : 950
Max  : 2100
Max+: 2730

Growth: +10/20/20






Growth Progression: [2-16][17-26][27-45]
Skill: All Hands On Deck
Maquina ATK +15%

Enhance Value:
300 experience
Dismiss Value:
2244 pence
Acquisition
Edit
-Awarded to the top 399, 406-999 and 1006-2000 players who collected the most sweets during the Colleen's Temper Event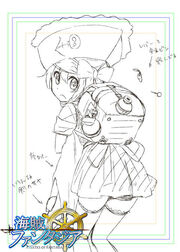 A sketch of was released.
Ad blocker interference detected!
Wikia is a free-to-use site that makes money from advertising. We have a modified experience for viewers using ad blockers

Wikia is not accessible if you've made further modifications. Remove the custom ad blocker rule(s) and the page will load as expected.