Encounter Message: You said "Greasy Colleen" again, didn't you?!
Lose Brawl: Next time you won't be so lucky!
Win Brawl: I haven't forgiven you yet!
"Even I can feel that my magic powers are stronger these days. What do you think? Can you feel it too? Hey, Colleen the Huge Forehead! let's go eat! I told you not to call me Colleen the Huge Forehead!"
— Sparkling Colleen
A magical girl who like[s] to study hard. She is aiming to be a respectable fairy like her teacher. Her growing upright and having a broad forehead is dazzling people around.
Attack:
Lvl 1 : 3450
Max  : 8000
Max+: 10400

Growth: +50
Defense:
Lvl 1 : 2750
Max  : 4912
Max+: 6385

Growth: +20






Growth Progression: [2-60]
Skill: Mystic Splendor
ATK +50%

Enhance Value:
500 experience
Dismiss Value:
1512 pence
Acquisition
Edit
-Defeat Sparkling Colleen 40 times and 70 times during the Colleen's Temper Event.
-Watermelon Rescue during the Watermelon Party Event
Bonus Story Information
Edit
Related to Bonus Story 23 for Pixie Archer x2 - additional requirements: Craftsman Toan.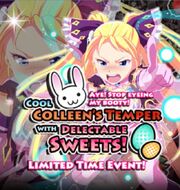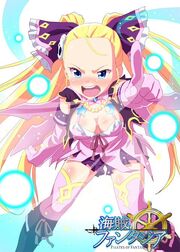 Non-English details

Japanese name
光の射手コリン
Chinese name
光之射手柯琳
Voice file
Voice actor (J)
加藤杏奈
Voice actor (E)
Kato Anna


Ad blocker interference detected!
Wikia is a free-to-use site that makes money from advertising. We have a modified experience for viewers using ad blockers

Wikia is not accessible if you've made further modifications. Remove the custom ad blocker rule(s) and the page will load as expected.