Serpentine Poppy




Rarity
★★★★★
Cost
52
Nation

Bellator

Type

Corsairs

Combo Type
Release Date
Unknown
"Oh, do my snake and skull scare you? Or was it just me that scares you? Hey, I won't talk to you anymore if you are such a coward."
— Serpentine Poppy
She is a Five Tigress General, one of the highest officials in the warrior nation, Bellator. She carries with her the skull of an enemy and a poisonous snake. Her weird actions make even her friends afraid of her sometimes.
Attack:
Lvl 1 : 4350
Max  : 8018
Max+: 10423

Growth: +35
Defense:
Lvl 1 : 4050
Max  : 7643
Max+: 9935

Growth: +35






Growth Progression: [2-60]
Skill: Snake Strike
Bellator ATK +20%

Enhance Value:
500 experience
Dismiss Value:
6240 pence
Acquisition
Edit
-Awarded to Yamete, Bye Meltem, anthrax, Nitou, Misery & Archangel during the Admirelle Assault Event from 7/23/13 to 7/25/13.
-Awarded to Tsuggie (2x), BEATNGU, anthrax, Misery, Almighty Push, Helena, Harem King, Black Pearl, Kiririn & Necromancer during the IMPROVED Admirelle Assault Event from 8/20/13 to 8/22/13.
- Watermelon Rescue during the Watermelon Party Event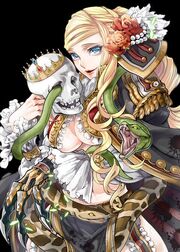 Non-English details

Japanese name
蛇妃ヴァイパー
Chinese name
蛇妃韦帕
Voice file

Voice actor (J)
Voice actor (E)


Ad blocker interference detected!
Wikia is a free-to-use site that makes money from advertising. We have a modified experience for viewers using ad blockers

Wikia is not accessible if you've made further modifications. Remove the custom ad blocker rule(s) and the page will load as expected.