"Please don't make me stay in the back. At least let me be somewhere where my voice will reach. My song can grant them strength! I have to try!"
— Rock Goddess Nina
This soldier isn't the strongest front line fighter, but her music is like a rallying cry inspiring her fellow troops to fight. Her commanders usually make her stand in the back with the military band.
Attack:
Lvl 1 : 3800
Max  : 7331
Max+: 9530

Growth: +35
Defense:
Lvl 1 : 3600
Max  : 7081
Max+: 9205

Growth: +35






Growth Progression: [2-60]
Skill: Recital
All ATK +10%

Enhance Value:

500 experience
Dismiss Value:

3840 pence
Acquisition
Edit
- Champagne Rescue during the Champagne Shower Event
- Watermelon Rescue during the Watermelon Party Event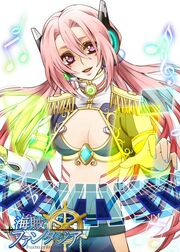 Non-English details

Japanese name
支援型ニーナ
Chinese name
Voice file
Voice actor (J)
三好由希子
Voice actor (E)
Miyoshi Yukiko


Ad blocker interference detected!
Wikia is a free-to-use site that makes money from advertising. We have a modified experience for viewers using ad blockers

Wikia is not accessible if you've made further modifications. Remove the custom ad blocker rule(s) and the page will load as expected.