Encounter Message: Is someone following us?
"I love you! No matter what kind of stuffed animal you are, my feelings for you won't change! I love you, too. I don't care about anything but you!"
— Red Maid Rory
Her true love was cursed and transformed into a stuffed animal. She now travels the worlds, searching for a way to break the spell.
Attack:
Lvl 1 : 3150
Max  : 5612
Max+: 7295

Growth: +25/30/35
Defense:
Lvl 1 : 2950
Max  : 5362
Max+: 6970

Growth: +25/30/35






Growth Progression: [2-16][17-26][27-45]
Skill: Corsair's Love
ATK +50%

Enhance Value:
300 experience
Dismiss Value:
3366 pence
Acquisition
Edit
Persuade boss in Sanctus, Chapter 16, Act 2.
Persuade boss on Floor 110 in the Macho Fleet Event.
Persuade after random encounter in the Sky Tower during the Cloudscape Event.
Persuade boss on Floor 5 in Mount Aurelia during the Crush the Rebellion Event.
Persuade boss on Floor 140 in the Pirates Academy Event.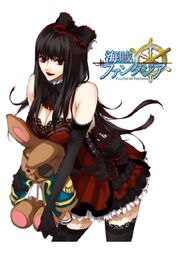 Revealed in Sanctus Chapter 16, Rory is the name of the stuffed animal, and is male. The name of the girl is Hallie.

Both Rory and Hallie speak in Red Maid Rory's Voice.
Ad blocker interference detected!
Wikia is a free-to-use site that makes money from advertising. We have a modified experience for viewers using ad blockers

Wikia is not accessible if you've made further modifications. Remove the custom ad blocker rule(s) and the page will load as expected.