"This is almost too useful. i can't let anyone turn it intoa weapon to kill people. That's why i turnet it into a mechanical pet."
— Quiet Parrot & Sara
She's an inventor born in Maquina. She left her birthplace to prevent her inventions from being used for war. Her latest invention is a crossbow that looks like a living parrot.  
Attack:
Lvl 1 : 3700
Max  : 6775
Max+: 8807

Growth: +50/40/30
Defense:
Lvl 1 : 2400
Max  : 3862
Max+: 5020

Growth: +30/20/10






Growth Progression: [2-16][17-26][27-45]
Skill: Hidden Arrow
Maquina ATK+15%

Enhance Value:

300 experience
Dismiss Value:

3060 pence
Acquisition
Edit
Awarded to players ranked 1-399, 406-999, and 1006-2000 in personal ranking during the Halloween Madness Event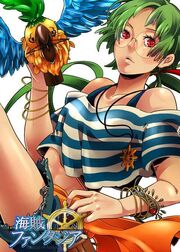 Ad blocker interference detected!
Wikia is a free-to-use site that makes money from advertising. We have a modified experience for viewers using ad blockers

Wikia is not accessible if you've made further modifications. Remove the custom ad blocker rule(s) and the page will load as expected.