This card share the same art as Ghost Princess Alice
"?"
— Pumpkin Alice
?
Attack:
Lvl 1 : 3700
Max  : 6100
Max+: 7930

Growth: +20
Defense:
Lvl 1 : 4600
Max  : 9550
Max+: 12415

Growth: +40/50/60






Growth Progression: [2-16][17-36][37-60]
Skill: Trick or Treat
All DEF +10%

Event Skill: Trick Lv3
+120% DMG to Hadeel
Enhance Value:

500 experience
Dismiss Value:

? pence
Acquisition
Edit
Event rescue during the Halloween Madness Event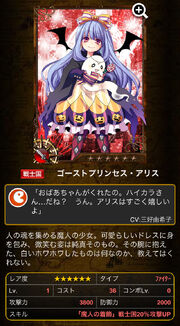 Pumpkin Alice is an entirely modified version of the original Alice found in the Japanese version of Pirate Maidens. The original has the same art, is named "Ghost Princess Alice", and is a 6* card with the following stats:
Rarity: ★★★★★★
Max level: 80
Cost: 36
Attack:
Lvl 1 : 3800
Max  : 10675
Max+: 13877

Growth: +60
Defense:
Lvl 1 : 2000
Max  : 4475
Max+: 5817

Growth: +20






Growth Progression: [2-80]
Skill: 魔人の着飾
Bellator ATK +20%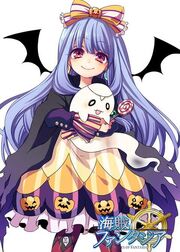 Non-English details

Japanese name
ゴーストプリンセス・アリス
Chinese name
Voice file
Voice actor (J)
三好由希子
Voice actor (E)
Miyoshi Yukiko


Ad blocker interference detected!
Wikia is a free-to-use site that makes money from advertising. We have a modified experience for viewers using ad blockers

Wikia is not accessible if you've made further modifications. Remove the custom ad blocker rule(s) and the page will load as expected.