"I've heard stories about you. The pirate who travels around the three nations with a bunch of cute girls? Pretty cool. If we'd met sooner I might've caused a stir on your ship though."
— Princess Sisu
Sisu is a cross-dresser with a love of cute women's clothing. He joined an otherwise all-female pirate crew, but was found out in the showers, They'd seriously considered hanging him, but relented because he's so cute. He's since become the idol of the crew. he never talks about his past, so they don't know that he was the prince of a small kingdom that the alliance crushed.
Attack:
Lvl 1 : 7050
Max  : 11412
Max+: 14836

Growth: +20
Defense:
Lvl 1 : 11000
Max  : 21737
Max+: 28258

Growth: +?






Growth Progression: ?
Skill: Distraction
Alliance DEF +30%

Enhance Value:
2000 Experience
Dismiss Value:
12240 pence
Acquisition
Edit
- Gold/Tidal or 5 Maps Rescue during the Princess Rescue Mission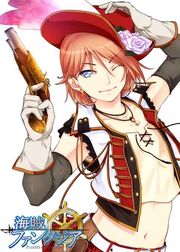 Previous Stats:
Cost = 68
Attack:
Lvl 1 : 7100
Max  : 14075
Max+: 18297

Growth: +?
Defense:
Lvl 1 : 6900
Max  : 13825
Max+: 17972

Growth: +?






Growth Progression: ?
Skill: ?
The Alliance ATK +25%




Non-English details

Japanese name
姫若人シス
Chinese name
小公主少爷希斯
Voice file
Voice actor (J)
小野賢章
Voice actor (E)
Ono Kenshō


Ad blocker interference detected!
Wikia is a free-to-use site that makes money from advertising. We have a modified experience for viewers using ad blockers

Wikia is not accessible if you've made further modifications. Remove the custom ad blocker rule(s) and the page will load as expected.