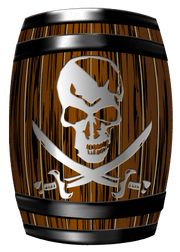 Point Rescue (or Wink Rescue) is one of the four available rescues in Pirate Maidens.
There is one Free Rescue available daily. Each additional rescue costs 200 Winks.
Multi-Rescue costs 2000 Winks for 11 pirates.
The rescues provides Pirates with a rarity ranging from Normal to Rare+.
Current lineup
Edit
It is possible to rescue the following pirates:
★★★★
★★★

Since summer 2014 all ★ & ★★ have been removed from wink rescue. Nonetheless some of them still figure in the game line up as possible rescue. In some extremely rare case, you can rescue one of these. It is currently unknow if it is a glitch.
★★
★
Removed pirates
Edit
The following pirates have been sent to Davey Jones Locker (i.e. removed from the Jolly Roger Rescue):
Replaced pirates
Edit
Ad blocker interference detected!
Wikia is a free-to-use site that makes money from advertising. We have a modified experience for viewers using ad blockers

Wikia is not accessible if you've made further modifications. Remove the custom ad blocker rule(s) and the page will load as expected.