Pastry Chef Ivria




Rarity
★★★★★
Cost
51
Nation

Bellator

Type

Corsairs

Combo Type
Release Date
Unknown
"Of course I dream of being a bride! I'm a girl too. But..I'd feel troubled if people just come up to me and propose all of a sudden... How about we start by writing letters first? I would like to slow things down and get to know you a little better first."
— Pastry Chef Ivria
[Limited Card] The executive chef of the restaurant on sea, the Whale Restaurant. Her skills and her look attracts lots of regulars to come in, who also tried their best to propose to her whenever possible. Her taste in men is those who is not a picky eater and just want to enjoy great food.
Attack:
Lvl 1 : 4650
Max  : 8393
Max+: 10910

Growth: +35
Defense:
Lvl 1 : 4150
Max  : 7768
Max+: 10098

Growth: +35






Growth Progression: [2-60]
Skill: Whale Bait
All ATK +15%

Event Skill: Special Welcome Lv.3
+120% to Damage [in Colleen Brawl]
Enhance Value:
500 experience
Dismiss Value:
? pence
Acquisition
Edit
-Event Rescue during Colleen's Temper Event.
-Champagne Bottle Rescue during Champagne Shower Event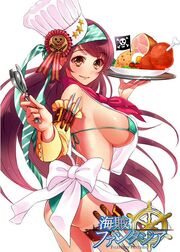 Non-English details

Japanese name
Chinese name
总料理长杏
Voice file
Voice actor (J)
Voice actor (E)


Ad blocker interference detected!
Wikia is a free-to-use site that makes money from advertising. We have a modified experience for viewers using ad blockers

Wikia is not accessible if you've made further modifications. Remove the custom ad blocker rule(s) and the page will load as expected.