"I've received a new weapon. I'd like to test it; would you be my opponet? No, it's not dangerous. It has a safety feature that's? Oh. Um. Nothing. It's 98% safe."
— New Gear Nekana
Nekana is an enhanced warrior dispatched from the lab, and excited to try out the new weapons they've provided her with. She's a little perplexed to find herself feeling this way, but she isn't letting that spoil her fun.
Attack:
Lvl 1 : 1650
Max  : 3537
Max+: 4598

Growth: +20
Defense:
Lvl 1 : 3550
Max  : 8125
Max+: 10562

Growth: +50






Growth Progression: [2-60]
Skill: Defense Field
All DEF +15%

Enhance Value:
500 experience
Dismiss Value:
3960 pence
Acquisition
Edit
-Ranking award from the Temple of Atlantis Event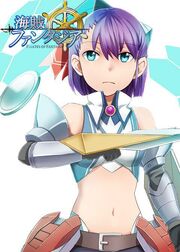 Non-English details

Japanese name
Chinese name
Voice file
Voice actor (J)
千葉泉
Voice actor (E)
Chiba Izumi


Ad blocker interference detected!
Wikia is a free-to-use site that makes money from advertising. We have a modified experience for viewers using ad blockers

Wikia is not accessible if you've made further modifications. Remove the custom ad blocker rule(s) and the page will load as expected.