"When I was asked to be the Legionnaire's disciple,she told me to go become strong on my own. I didn't really understand. She's so strong, and I wanted to learn from her..."
— Nettle the Golden Sigh
Nettle is one of Bellator's Five Tiger Generals. She greatly admires the Legionnaire's strength, and became her disciple in the hopes of approaching that level of strength. She will endure any journey to face a strong enough opponent.
Attack:
Lvl 1 : 3900
Max  : 10800
Max+: 14040

Growth: +60
Defense:
Lvl 1 : 2700
Max  : 5350
Max+: 6955

Growth: +20






Growth Progression: [2-80]
Skill: Lion's Melancholy
Guild Battle Only: All ATK +20%

Event Skill: Call to the Cosmos Lv4
?
Enhance Value:
1000 experience
Dismiss Value:
5600 pence
Acquisition
Edit
- Crystal Tower Rescue during The Rainbow Guardian Event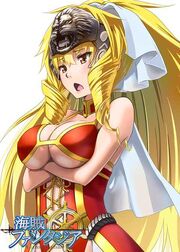 Non-English details

Japanese name
金色吐息ライオネル
Chinese name
金色吐息拉伊奥内尔
Voice file
Voice actor (J)
千葉泉
Voice actor (E)


Ad blocker interference detected!
Wikia is a free-to-use site that makes money from advertising. We have a modified experience for viewers using ad blockers

Wikia is not accessible if you've made further modifications. Remove the custom ad blocker rule(s) and the page will load as expected.