Nettle the Golden




Rarity
★★★★★
Cost
48
Nation

Bellator

Type

Corsairs

Combo Type
Release Date
Unknown
"Those strong guys who claimed in the name of justice has become a fad in this Nation and has become a problem. The other Five Tigress Generals always like to do what they want. All I will do is to protect the Legionaire and be faithful to her as always."
— Nettle the Golden
She is one of the Five Tigress Generals, who are the highest officials of Bellator. Her beautiful blonde hair and her battle style gained her the nickname of Golden Lioness. She respected and admired the Legionnaire. She had chased down any [of the] Legionnaire's unfaithful servants, and had power over her fellow officials and warriors.
Attack:
Lvl 1 : 4250
Max  : 7893
Max+: 10260

Growth: +35
Defense:
Lvl 1 : 3950
Max  : 7518
Max+: 9773

Growth: +35






Growth Progression: [2-60]
Skill: Barkadeer
Bellator ATK +15%

Enhance Value:
500 experience
Dismiss Value:
5760 pence
Acquisition
Edit
-Weekend Rescue Raffle of 2/1/2013 - 2/4/2013
-Awarded to the ??? during Ruby's Rampage Raid Event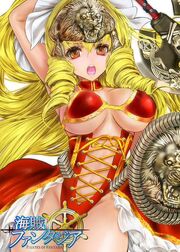 Non-English details

Japanese name
金獅子ライオネル
Chinese name
金狮子莱昂内尔
Voice file
Voice actor (J)
Voice actor (E)


Ad blocker interference detected!
Wikia is a free-to-use site that makes money from advertising. We have a modified experience for viewers using ad blockers

Wikia is not accessible if you've made further modifications. Remove the custom ad blocker rule(s) and the page will load as expected.