Mystery Gun Kasana




Rarity
★★★★★
Cost
46
Nation

Maquina

Type

Bounty Hunters

Combo Type
Release Date
Unknown
"The flying bullet, the deafening roar and scream. This is a good battlefield. My blood is boiling. Don't you feel the rush of battle?"
— Mystery Gun Kasana
She is the most admired general in the Maquina armed forces. She calls herself the Gearsmith's Gun. She always wants to be at the forefront of any battle, to exterminate the enemy with overwhelming firepower.
Attack:
Lvl 1 : 4200
Max  : 8937
Max+: 11618

Growth: +50
Defense:
Lvl 1 : 3600
Max  : 5975
Max+: 7767

Growth: +20






Growth Progression: [2-60]
Skill: List
Maquina ATK +15%

Enhance Value:
500 experience
Dismiss Value:
5520 pence
Acquisition
Edit
-Place in the 1st-200th personal ranking during Fugitive Cecil Raid Event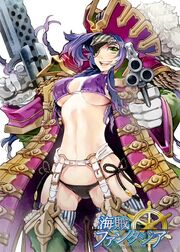 Non-English details

Japanese name
怪銃将クリサリス
Chinese name
Voice file
Voice actor (J)
Voice actor (E)


Ad blocker interference detected!
Wikia is a free-to-use site that makes money from advertising. We have a modified experience for viewers using ad blockers

Wikia is not accessible if you've made further modifications. Remove the custom ad blocker rule(s) and the page will load as expected.