"I was so stupid. I was about to give up everything except for my hatred for you. I will battle for you for as long as I live. That is what God would want me to do."
— Morrigan the Undefeated
She had stepped into the role of saving the nation when it was in danger. She had shown the people that God's work is in place, yet she was captured by their enemy and was about to be burnt at the stake.
Attack:
Lvl 1 : 4100
Max  : 7706
Max+: 10017

Growth: +35
Defense:
Lvl 1 : 4100
Max  : 7706
Max+: 10017

Growth: +35






Growth Progression: [2-60]
Skill: No Quarter Given
Off-worlder ATK +15%

Enhance Value:
500 experience
Dismiss Value:
5640 pence
Acquisition
Edit
- Awarded to every player who cleared the 100th Floor during the Invaders From Another World Event
- Purchased in the Sapphire Trading Post (3rd ver.) for 120 Sapphires.
- Watermelon Rescue during the Watermelon Party Event

Morrigan the Undefeated's name is 'Joan of Arc' in the Japanese and Chinese versions of the game.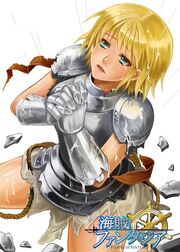 Non-English details

Japanese name
聖女ジャンヌ・ダルク
Chinese name
圣女贞德
Voice file
Voice actor (J)
横山瑞希
Voice actor (E)
Mizuki Yokoyama


Ad blocker interference detected!
Wikia is a free-to-use site that makes money from advertising. We have a modified experience for viewers using ad blockers

Wikia is not accessible if you've made further modifications. Remove the custom ad blocker rule(s) and the page will load as expected.