Encounter Message: I'm in charge of the Lightning Brigade[']s uniform design! Time for a new look!
"Look! That dress is so cute! I love it with all my heart. If she doesn't give it to me, I'll slit her throat with my claws! In an adorable way, of course."
— Morisa the Scallywag
This compulsive liar likes to claim she was raised not by wolves, but by cats. Either way, it's untrue; she was raised by a wealthy merchant who could afford to indulge her unique fashion tastes.
Attack:
Lvl 1 : 600
Max  : 1268
Max+: 1648

Growth: +20/15/10
Defense:
Lvl 1 : 1400
Max  : 2993
Max+: 3890

Growth: +40/35/30






Growth Progression: [2-11][12-16][17-30]
Skill: Interloper
Bellator DEF +10%

Enhance Value: 150 experience
Dismiss Value: 1092 pence
Acquisition
Edit
Bonus Story Information
Edit
Related to Bonus Story 8 for Kraken Draught (Cup) x3 - additional requirements: Alexa the Cunning, Fianna the Swift, Mech Mermaid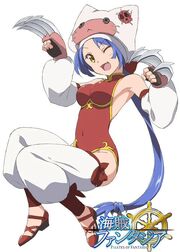 Non-English details

Japanese name
コスプレ・モカニャン
Chinese name
Cosplay莫咖猫
Voice file
Voice actor (J)
加藤杏奈
Voice actor (E)
Kato Anna


Ad blocker interference detected!
Wikia is a free-to-use site that makes money from advertising. We have a modified experience for viewers using ad blockers

Wikia is not accessible if you've made further modifications. Remove the custom ad blocker rule(s) and the page will load as expected.