Moonlight Martina




Rarity
★★★★★
Cost
41
Nation

Sanctus

Type
Gypsies
Combo Type
Release Date

Sep 5, 2013
"You want to hear about old times? I'd rather not dwell on the past. Why don't you turn around and go home? If you have something you truly care about, you shouldn't go around thinking random strangers should get to hear about it."
— Moonlight Martina
Martina was the Pirate Queen's right-hand man-er, woman. She is one of the candidates for the queen's successor. She isn't actually interested in being the next Pirate Queen herself, and has gotten fed up with Astreya's attempts to cut down on competition by killing off the other candidates.
Attack:
Lvl 1 : 4400
Max  : 9300
Max+: 12090

Growth: +40/50/60
Defense:
Lvl 1 : 3400
Max  : 5725
Max+: 7442

Growth: +20






Growth Progression: [2-16][17-36][37-60]
Skill: Helios Chariot
Guild Battle: All ATK +15%

Enhance Value:
500 experience
Dismiss Value:
4920 pence
Acquisition
Edit
-Purchased in Item Trade Shop with stars during the Land of Falling Stars Event
-Mysterious rescue during The Lost Codex Event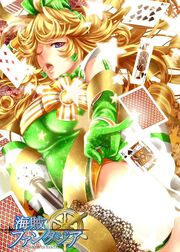 Non-English details

Japanese name
Chinese name
月光天玛露蒂娜
Voice file
Voice actor (J)
Voice actor (E)


Ad blocker interference detected!
Wikia is a free-to-use site that makes money from advertising. We have a modified experience for viewers using ad blockers

Wikia is not accessible if you've made further modifications. Remove the custom ad blocker rule(s) and the page will load as expected.