Encounter Message: Say no to war! Say no to violence!
Lose Brawl: Don't underestimate a vegetable seller's daughter!
Win Brawl: V-Violence never solves anything!
"I'm just a commoner! All I know how to do is grow vegetables! But I can't remain silent! Your majesty! You must stop this war!"
— Militia Trisha
After her family's grocery business was destroyed, Trisha became a leader in the local militia. She only has a little experience so far, but it's just a matter of time before she leaves her mark on history with her sword.
Attack:
Lvl 1 : 3450
Max  : 8000
Max+: 10400

Growth: +50
Defense:
Lvl 1 : 1150
Max  : 2912
Max+: 3785

Growth: +20






Growth Progression: [2-60]
Skill: none


Enhance Value:
500 experience
Dismiss Value:
2160 pence
Acquisition
Edit
- Defeat Militia Trisha 30 and 60 times in Crush the Rebellion Event.
- Defeat Militia Trisha 25 and 50 times in Gathering of Powerful Foes Event (Part 2).
Bonus Story Information
Edit
Related to Bonus Story 49 for Pixie Archer x2 - additional requirements: Golden Guardian Carrie.
An early sketch of Milita Trisha was released.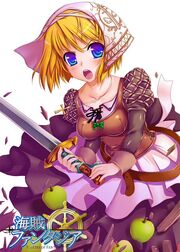 Non-English details

Japanese name
商店街の天使トリス
Chinese name
商店街的天使托丽丝
Voice file
Voice actor (J)
Voice actor (E)


Ad blocker interference detected!
Wikia is a free-to-use site that makes money from advertising. We have a modified experience for viewers using ad blockers

Wikia is not accessible if you've made further modifications. Remove the custom ad blocker rule(s) and the page will load as expected.