"Eep! Oh! I'm so sorry! I'll wipe it up right away! Wait, where's my cloth? Okay, there! I'm okay! I can handle this!"
— Maid Candra
Candra's mistakes kept piling up, until she lost her job and wound up a wanderer. But maybe this whole maid thing will work out for her?
Attack:
Lvl 1 : 3600
Max  : 10600
Max+: 13780

Growth: +50/60/70
Defense:
Lvl 1 : 1800
Max  : 4225
Max+: 5492

Growth: +20






Growth Progression: [2-26][27-41][42-80]
Skill: Support
Bellator ATK +20%

Event Skill: Mansion Mayhem Lv.3
+90% DMG in Mansion
Enhance Value:
1000 experience
Dismiss Value:
? pence
Acquisition
Edit
- Event rescue during the Welcome Back Master Event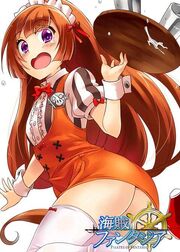 Non-English details

Japanese name
メイドさんナズナ
Chinese name
Voice file
Voice actor (J)
花村晃子
Voice actor (E)


Ad blocker interference detected!
Wikia is a free-to-use site that makes money from advertising. We have a modified experience for viewers using ad blockers

Wikia is not accessible if you've made further modifications. Remove the custom ad blocker rule(s) and the page will load as expected.