"Why am I of all people losing it over what clothes I'm wearing? I forgot what this felt like. I don't know what kind of face to make now."
— Lily White Noa
Somehow or other she wound up invited to a fancy party, and has to wear this dress. She doesn't particularly want to stand out, but the way she conducts herself only makes her stick out that much more.
Attack:
Lvl 1 : 4100
Max  : 7706
Max+: 10017

Growth: +35
Defense:
Lvl 1 : 4100
Max  : 7706
Max+: 10017

Growth: +35






Growth Progression: [2-60]
Skill: Holy Wreath
ATK and DEF +50%

Enhance Value:

500 experience
Dismiss Value:

5040 pence
Acquisition
Edit
- Champagne and Super Champagne Rescue during the Champagne Shower Event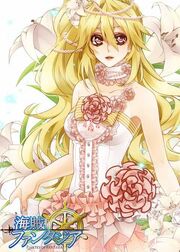 Non-English details

Japanese name
百合化粧ホワイトノア
Chinese name
百合化妆怀特诺亚
Voice file
Voice actor (J)
Voice actor (E)


Ad blocker interference detected!
Wikia is a free-to-use site that makes money from advertising. We have a modified experience for viewers using ad blockers

Wikia is not accessible if you've made further modifications. Remove the custom ad blocker rule(s) and the page will load as expected.