"Don't keep the burden to yourself. I've been your friend for 200 years. I know everything about you. I'll protect you no matter what."
— Light Admiral Harpo
A holy woman of Elves. She was nominated as a matriarch candidate, but she gave her position to a close friend and chose to support her from the shadows.
Attack:
Lvl 1 : 3400
Max  : 5725
Max+: 7442

Growth: +20/20/20
Defense:
Lvl 1 : 4200
Max  : 9050
Max+: 11765

Growth: +40/50/60






Growth Progression: [2-16][17-36][37-60]
Skill: Hang the Jib
Sanctus DEF +15%

Enhance Value:
500 experience
Dismiss Value:
3960 pence
Acquisition
Edit
-Awarded to the top 200 players who collected the most gems during the Dungeon of the Succubus Event.
It is assumed that the close friend of Light Admiral Harpo whom she gave her position to is Resplendent Pearl.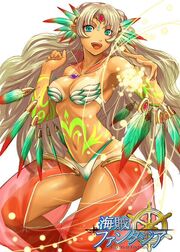 Non-English details

Japanese name
Chinese name
光明的阿德米拉
Voice file
Voice actor (J)
Voice actor (E)


Ad blocker interference detected!
Wikia is a free-to-use site that makes money from advertising. We have a modified experience for viewers using ad blockers

Wikia is not accessible if you've made further modifications. Remove the custom ad blocker rule(s) and the page will load as expected.