"WHO DO YOU THINK I AM?! Hehehe. Morisa made me an outfit to look like the Legionnaire. Did I scare you?"
— Legionnaire Reesa
Dressing up like the Legionnaire has given Reesa a feeling of strength. She's not actually that good with a sword but her reflexes and brute strength let her wield three of them.
Attack:
Lvl 1 : 3800
Max  : 10675
Max+: 13877

Growth: +60
Defense:
Lvl 1 : 2600
Max  : 5225
Max+: 6792

Growth: +20






Growth Progression: [2-80]
Skill: Overdrive
Bellator ATK +20%

Enhance Value:
1000 experience
Dismiss Value:
5850 pence
Acquisition
Edit
- Watermelon Rescue during the Watermelon Party Event
- Step Up Rescue (2nd Version)
- Jolly Roger Rescue during the Watermelon Party Event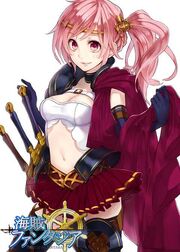 Non-English details

Japanese name
神将風リノン
Chinese name
神将风莉娜
Voice file
Voice actor (J)
青木瑠璃子
Voice actor (E)
Aoki Ruriko


Ad blocker interference detected!
Wikia is a free-to-use site that makes money from advertising. We have a modified experience for viewers using ad blockers

Wikia is not accessible if you've made further modifications. Remove the custom ad blocker rule(s) and the page will load as expected.