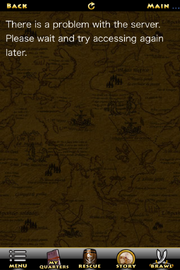 Roughly a month and a half after The Killer Glitch of 2013/4 had been mostly resolved, the game servers relapsed to the hands of the Grim Reaper once again.
Players had reported that they only experienced this after doing a 20 watermelon rescue. Unaffected players should take precautions to avoid the event rescue of the Watermelon Party Event, lest they wish to die by the hands of the devil.
Update: the cause was confirmed to be the 20 watermelon rescue, and is now resolved.
20/2/14 - First reported occurrence of bug
21/2/14 - Big Content Update!

(Possibly one of the causes of the relapse, as the update was already implemented on 20/2/14)

24/2/14 - Mostly resolved.
25/2/14 - Statement released (Brown Screen Error Info)

Some of the Pirates from the event rescues were actually not supposed to be in the game yet! Initially, pirates didn't even appear (because they were broken). However, we have changed them so that now they appear in ALL CAPS as WILL BE DELETED. If you have any of these WILL BE DELETED cards, they will (obviously) be deleted periodically so as to avoid any further issues. [...]
60 watermelons were given out as compensation to the 4 days of glitch. This compensation was however issued to all players, including non-glitched.

5/3/14 - More players were locked out after the Watermelon Party Event
Affected users
Edit
The following users were killed by the glitch during the Watermelon event. Some were glitched during the Champagne event as well, while others experienced this killer glitch for the first time.
Nara X π (i.e. Maine12329)
♥Sophie♥
Polar Feng
StormPrince
Sora
Noy
The Dreadlord
Enix2ooo
MitsuneHaku
ninjamode
tbc

ღCyfer

ღ

Ms. Hellfire

Enderman Vox
Add your name in if you've been affected and are not listed here.
Official theme song of the glitch
Edit
Slightly edited version of Simple Plan's "Untitled"
I open my eyes
I try to see but I'm blinded by the white [brown] light
I can't remember how
I can't remember why
I'm [My phone's] lying here tonight

And I can't stand the pain
And I can't make it go away
No I can't stand the pain

[Chorus]


How could this happen to me
I made my no mistakes
I've got no where to run [nothing to play]
The night goes on
As I'm fading away
I'm sick of this life [game]
I just wanna scream
How could this happen to me

Everybody's screaming
I try to make a sound but no one hears me
I'm slipping off the edge
I'm hanging by a thread
I wanna start this over again

So I try to hold onto a time when nothing mattered
And I can't explain what happened
And I can't erase the things that I've done
No I can't



[Chorus x2]
Evil watermelon gallery
Edit
Remember folks, watermelons are evil.
Ad blocker interference detected!
Wikia is a free-to-use site that makes money from advertising. We have a modified experience for viewers using ad blockers

Wikia is not accessible if you've made further modifications. Remove the custom ad blocker rule(s) and the page will load as expected.