"Ladies! Playtime is over! Meow! The time has come to dominate the world! With cosplay! We will take their uniforms for ourselves! This is Operation Uniform Conquest! "
— King Morisa
Morisa is a lady pirate with a love of cosplay. This time she's dressed up as a king.
Attack:
Lvl 1 : 4350
Max  : 8075
Max+: 10497

Growth: +30/35/40
Defense:
Lvl 1 : 4250
Max  : 7950
Max+: 10335

Growth: +30/35/40






Growth Progression: [2-16][17-36][37-60]
Skill: Stellar Wind
Dandy Girls ATK +15%

Enhance Value:

500 experience
Dismiss Value:

5,640 pence
Acquisition
Edit
- Trade in a certain number of Falling Stars at the trade shop during the Land of Falling Stars Event
- Trade in 10000 Maple Leaves at the trade shop during the Hot Springs Event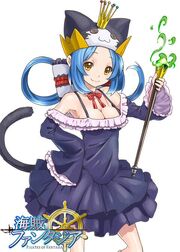 Non-English details

Japanese name
キング・モカニャン
Chinese name
君王·莫咖喵
Voice file
Voice actor (J)
加藤杏奈
Voice actor (E)
Kato Anna


Ad blocker interference detected!
Wikia is a free-to-use site that makes money from advertising. We have a modified experience for viewers using ad blockers

Wikia is not accessible if you've made further modifications. Remove the custom ad blocker rule(s) and the page will load as expected.