Jillian Tigerface




Rarity
★★★★★
Cost
30
Nation

Maquina

Type

Bounty Hunters

Combo Type
Release Date
Unknown
"This outfit is ridiculous. Now wipe that creepy smile off your face unless you want a court-martial!"
— Jillian Tigerface
Jillian is one of the three Great Generals. As the representative of Maquina, she agreed to dress up for Valentine's Day. Jillian is not thrilled with how her people wove her nickname into the outfit.
Attack:
Lvl 1 : 3150
Max  : 7737
Max+: 10058

Growth: +40/50/60
Defense:
Lvl 1 : 1450
Max  : 3287
Max+: 4273

Growth: +20






Growth Progression: [2-16][17-36][37-60]
Skill: Meow!
Maquina ATK +15%

Enhance Value:

500 experience
Dismiss Value:

3600 Pence
Acquisition
Edit
- Awarded to the winners of the Rescue Hall of Fame event in May 2013
- Awarded to the winners of the Admirelle Assault in July 2013
- Jolly Roger Rescue
- The Rainbow Guardian Event Rescue
 Lost Lover Rescue during the Lost Lover Event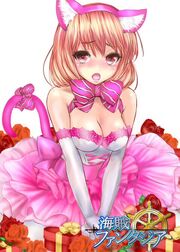 Non-English details

Japanese name
Chinese name
Voice file

Voice actor (J)
千葉泉
Voice actor (E)
Chiba Izumi


Ad blocker interference detected!
Wikia is a free-to-use site that makes money from advertising. We have a modified experience for viewers using ad blockers

Wikia is not accessible if you've made further modifications. Remove the custom ad blocker rule(s) and the page will load as expected.