"Don't judge people based on appearances. Evan a child could kill an adult with a gun. Those who are not your allies are your enemies. Remember that if you truly hope to become a warrior!"
— Jillian Tigerbane
One of the three generals from Maquina, she defeated all five of Bellator's Tiger Generals. She is respected and highly competent, so don't be fooled by her youthful face. She's actually older than the Gearsmith and Kasana, (though it wouldn't be wise to remind her of that).
Attack:
Lvl 1 : 4400
Max  : 8081
Max+: 10505

Growth: +35
Defense:
Lvl 1 : 4200
Max  : 7831
Max+: 10180

Growth: +35






Growth Progression: [2-60]
Skill: Starboard Side
Maquina ATK +20%

Enhance Value:

500 experience
Dismiss Value:

6360 Pence
Acquisition
Edit
- Champagne Rescue during the Champagne Shower Event
- Invite 50 people with your friend invite code. They all must at least complete the tutorial.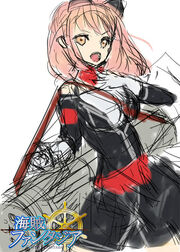 A sketch of Jillian Tigerbane was released.



Non-English details

Japanese name
Chinese name
Voice file
Voice actor (J)
千葉泉
Voice actor (E)
Chiba Izumi


Ad blocker interference detected!
Wikia is a free-to-use site that makes money from advertising. We have a modified experience for viewers using ad blockers

Wikia is not accessible if you've made further modifications. Remove the custom ad blocker rule(s) and the page will load as expected.