"My loyalty knows no bounds! When i think about the Gearsmith I have three times the power!"
— Idola the Hopeful
One of the Gearsmith's beloved bodyguards. She'll give her all in the athletic tournament if it means praise from the Gearsmith, even if she doesn't really understand the rules of any of the competitions.
Attack:
Lvl 1 : 3400
Max  : 6450
Max+: 8385

Growth: +40
Defense:
Lvl 1 : 2100
Max  : 3725
Max+: 4842

Growth: +20






Growth Progression: [2-45]
Skill: Athletic Meet IR
ATK +100% / Homerun

Enhance Value:
300 Experience
Dismiss Value:
2550 Pence
Acquisition
Edit
- Jolly Roger Rescue Sporty Pirate Edition
- Purchased in the Sapphire Trading Post (3rd ver.) for 40 Sapphires.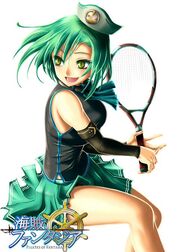 Non-English details

Japanese name
Chinese name
Voice file
Voice actor (J)
高木恵
Voice actor (E)
Takagi Megumi


Ad blocker interference detected!
Wikia is a free-to-use site that makes money from advertising. We have a modified experience for viewers using ad blockers

Wikia is not accessible if you've made further modifications. Remove the custom ad blocker rule(s) and the page will load as expected.