Encounter Message: If Trisha's going to fight, then I will too.
Lose Brawl: It's because... I'm a monster...
Win Brawl: You're... horrible...
"I was watching Angie and Cricket fight them off, but I couldn't do anything. When I woke up, I found I was so much stronger. I've become a monster, and this is all I'm good for now. Sorry "
— Humanoid Tetra
Tetra was once a Maquina soldier, but she became a casualty of war. That wasn't the end of her however; the Lab used her for an experiment, rebuilt her body with new biological components. They intended for her to react to a certain amount of damage by transforming into a terrifying monster.
Attack:
Lvl 1 : 3800
Max  : 8325
Max+: 10822

Growth: +60/50/40
Defense:
Lvl 1 : 1600
Max  : 3475
Max+: 4517

Growth: +20/20/20






Growth Progression: [2-16][17-36][37-60]
Skill: none


Enhance Value:
500 experience
Dismiss Value:
2640 pence
Acquisition
Edit
- Defeat Humanoid Tetra 35 and 70 times in Crush the Rebellion Event.
- Defeat Humanoid Tetra 30 and 60 times in Gathering of Powerful Foes Event (Part 2).
Bonus Story Information
Edit
Related to Bonus Story 52 for Pixie Archer x1 - no additional requirements.
Upon reaching max level, Humanoid Tetra's image changes to her monster form. She is currently the only pirate to do this.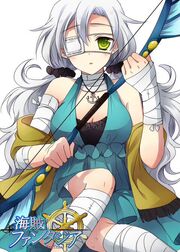 Ad blocker interference detected!
Wikia is a free-to-use site that makes money from advertising. We have a modified experience for viewers using ad blockers

Wikia is not accessible if you've made further modifications. Remove the custom ad blocker rule(s) and the page will load as expected.