"Oh Jorgina, I'm all messy, can you help me?"
— Hot Mess Idola
Idola was making a special surprise for the Gearsmith when she fell in. Now she's sticky all over.
Attack:
Lvl 1 : 3100
Max  : 6075
Max+: 7897

Growth: +40
Defense:
Lvl 1 : 900
Max  : 2225
Max+: 2892

Growth: +20






Growth Progression: [2-45]
Skill: Chocolate Hug
ATK +50%

Enhance Value:
300 experience
Dismiss Value:
2200 pence
Acquisition
Edit
- Personal Rank 1-5 in a GvG brawl during the Arctic Vortex Test of Valor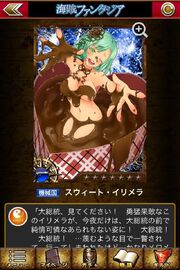 Ad blocker interference detected!
Wikia is a free-to-use site that makes money from advertising. We have a modified experience for viewers using ad blockers

Wikia is not accessible if you've made further modifications. Remove the custom ad blocker rule(s) and the page will load as expected.