"You need help again? You're just helpless. Okay, but you owe me one. What do I want? I want you to be my friend-I mean! Um! Forget I said that!"
— Hooligan Momiji
With her unmatched stealth skills, Momiji is the new rising star of the ninjustu club. They fully expect her to overtake her upperclassmen and become the club's leader.
Attack:
Lvl 1 : 3300
Max  : 7812
Max+: 10155

Growth: +50
Defense:
Lvl 1 : 1300
Max  : 3100
Max+: 4030

Growth: +20






Growth Progression: [2-60]
Skill: Learned Technique
Bellator ATK +15%

Event Skill: Homework Lv3
+120% DMG to Valum
Enhance Value:
500 experience
Dismiss Value:
3240 pence
Acquisition
Edit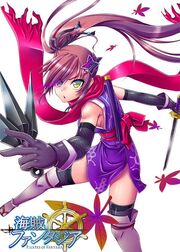 This card was previously named 'Hooligan Gianna'. Its name was changed to 'Hooligan Momiji' during the Champagne Shower Event.



Non-English details

Japanese name
紅乱破モミジ
Chinese name
红乱破红叶
Voice file
Voice actor (J)
堀出葵
Voice actor (E)


Ad blocker interference detected!
Wikia is a free-to-use site that makes money from advertising. We have a modified experience for viewers using ad blockers

Wikia is not accessible if you've made further modifications. Remove the custom ad blocker rule(s) and the page will load as expected.