Gunner-Mage Fleur




Rarity
★★★
Cost
15
Nation

Sanctus

Type

Gypsies

Combo Type
Release Date
Unknown
Encounter Message: We're the Lightning Brigade.
"You won't tell this is a weapon, right? The people in this nation hate swords and guns・・・・・・Argh, Why am I such a timid person who cares what other people think of me?"
— Gunner-Mage Fleur
She was born without magical powers and abandoned as a baby. She armed herself by combining firearms and instruments robbed from Maquina. She is an indomitable woman.
Attack:
Lvl 1 : 900
Max  : 2056
Max+: 2672

Growth: +20/25/30
Defense:
Lvl 1 : 900
Max  : 2056
Max+: 2672

Growth: +20/25/30






Growth Progression: [2-11][12-16][17-30]
Skill: Ballast
All DEF +10%

Enhance Value:
150 experience
Dismiss Value:
1260 pence
Acquisition
Edit
-Persuade boss in Bellator, Chapter 10, Act 1.
-Persuade boss in Floor 25 of the Sky Tower during the Cloudscape Event
Bonus Story Information
Edit
Related to Bonus Story 13 for Kraken Draught (Cup) x2 - additional requirements: Mad Scientist Sintra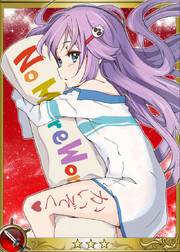 Gunner Mage Fleur has the same voice as Rohana the Death Song. Her description is slightly different from Rohana's however.
Gunner-Mage Fleur is an entirely modified version of Fleur (Lazy Fleur/NEET Fleur), whose original image was censored as it was deemed inappropriate by Aeria. The bonus story, "Is Laziness Contagious?", makes a lot more sense with the uncensored version. [This is evidenced in the fact that Gunner-Mage Fleur shares the same bonus story, stats, and skill as Lazy Fleur in the Japanese and Chinese version, and the fact that Gunner-Mage Fleur does not exist as a card in those versions. Also, this is the only card that shares the voice with another card.]
Ad blocker interference detected!
Wikia is a free-to-use site that makes money from advertising. We have a modified experience for viewers using ad blockers

Wikia is not accessible if you've made further modifications. Remove the custom ad blocker rule(s) and the page will load as expected.