"Every ruler is a bastard like you, and it pisses me off. They're like monkeys, grabbing at everything, and I can't help but take some of their treasure to help the people"
— Great Theif Goemon Ishikawa
Ishikawa is a thief from an alternate world. He's a daredevil who gives his stolen goods to the poor, making him a very popular figure. But that didn't stop him from getting caught. Just as he was about to face execution in a boiling pot, someone summoned him to this world.
Attack:
Lvl 1 : 2950
Max  : 5287
Max+: 6873

Growth: +20
Defense:
Lvl 1 : 4450
Max  : 9687
Max+: 12593

Growth: +40/50/60/50






Growth Progression: [2-16][17-36][37-61][62-65]
Skill: Usurpation
Outworlders DEF +15%

Enhance Value:
500 experience
Dismiss Value:
4800 pence
Acquisition
Edit
- Guild rankings reward from the Gathering of Powerful Foes Event
Cultural references
Edit
Ishikawa Goemon was a semi-legendary Japanese outlaw hero who stole gold and valuables and gave them to the poor.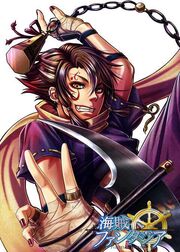 Ad blocker interference detected!
Wikia is a free-to-use site that makes money from advertising. We have a modified experience for viewers using ad blockers

Wikia is not accessible if you've made further modifications. Remove the custom ad blocker rule(s) and the page will load as expected.