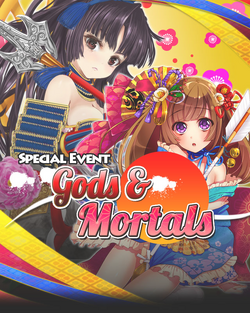 The Gods & Mortals Event is a
Rescue Event
 in which players collect Lucky Cakes and can spend them in hopes of rescuing a limited edition Goddess card. Additionally, there is a global reward for every player based on how many Lucky Cakes are spent in total over the course of the event.

Occurrences:
July 25, 2013 - August 5, 203 16:00 (GMT -7)
Cutscenes
Edit
Introduction:
Information
Edit
Players can acquire Lucky Cakes from the following methods:
Winning a Guild Battle: +1
Personal Brawl Victory: +1 (sometimes)
Pillage in Story: +1 (sometimes)
Login Bonus: +2
Gold Rescue: +4
Tidal Wave Rescue: +44
Booty Booster Pack: +20
Lucky Cakes can be spent on the Immortal Goddess Rescue, for 20 Lucky Cakes per rescue. See next section for the contents of the Immortal Goddess Rescue.
Notes:
-A player has a better chance of getting a Lucky Cake from a personal brawl victory if the opponent has a higher level than the player.
-Lucky Cakes can only be found in the latest Chapter, Act, and Episode of the story.
-Login Bonus is the same, regardless of the winning nation and your currently aligned nation.
-Players do not receive Pirate Tickets from the Gold Rescue or the Tidal Wave Rescue during the event.
-Players can find the Limited Edition Goddess Cards in the Gold Rescue, and are guaranteed at least one from a  Tidal Wave Rescue.
Immortal Goddess Rescue
Edit
Players either rescue a Limited Edition Goddess Card or a Pixie as consolation.
Limited Edition Goddess Cards:
Pixies:
Brawl Ranking Rewards
Edit
Personal Ranking
Rank
Reward
1-10
11-50
51-300
301-399
400-405
406-999
1000-1005
1006-2000
2001-3500
3501-5000
5001-8000
Guild Ranking
Rank
Reward
1-5
6-30
31-49
50
51-99
100
101-149
150
151-300
Global Player Reward
Edit
Rewards are given to all players based on each threshold of Lucky Cakes spent.
Global Player Reward
Reward
# of Lucky Cakes

200,000

400,000

600,000

1,000,000

1,400,000

2,000,000
Hall of Fame
Edit
Ad blocker interference detected!
Wikia is a free-to-use site that makes money from advertising. We have a modified experience for viewers using ad blockers

Wikia is not accessible if you've made further modifications. Remove the custom ad blocker rule(s) and the page will load as expected.