"I've seen you before. I'll let you be my attendant. What's with that face? You'll be THE attendant of [the] Goddess of Warriors! That's a really great title, okay? You should at least look happier than this!"
— Goddess of Warriors Bestla
[Limited 7 Goddesses Card] The most irritable one out of the 7 Goddesses. She always want[s] to challenge a strong warrior when she sees one. She'll only bless the ones who have the strength that she approves. It's said that there are less than 10 people who have claimed this honor in the past.
Attack:
Lvl 1 : 4500
Max  : 8206
Max+: 10667

Growth: +35
Defense:
Lvl 1 : 4300
Max  : 7956
Max+: 10342

Growth: +35






Growth Progression: [2-60]
Skill: Exaltation
Bellator ATK +10%

Enhance Value:
500 experience
Dismiss Value:
5760 pence
Acquisition
Edit
-Immortal Goddess Rescue during the Gods & Mortals Event.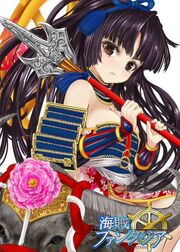 Non-English details

Japanese name
毘沙門天アスカ
Chinese name
战斗女神阿斯卡
Voice file
Voice actor (J)
Voice actor (E)


Ad blocker interference detected!
Wikia is a free-to-use site that makes money from advertising. We have a modified experience for viewers using ad blockers

Wikia is not accessible if you've made further modifications. Remove the custom ad blocker rule(s) and the page will load as expected.