"If you squeeze the immortal peach, you'll get the juice of eternity. Doesn't it look tasty? Sorry, though, I don't let humans drink this. Too bad!"
— Goddess of Longevity Vailea
[Limited 7 Goddesses Card] The oldest one of the 7 Goddesses. She ate too [many] immortal peaches so she will stay at this age forever. Her biggest wish right now is to stay with her members for a long time.
Attack:
Lvl 1 : 3350
Max  : 5837
Max+: 7588

Growth: +30
Defense:
Lvl 1 : 3150
Max  : 5587
Max+: 7263

Growth: +30






Growth Progression: [2-45]
Skill: Eternal Star
vs. Bounty Hunter ATK +20%

Enhance Value:
300 experience
Dismiss Value:
3468 pence
Acquisition
Edit
-Immortal Goddess Rescue during the Gods & Mortals Event.
-Jolly Roger Rescue (Limited Time)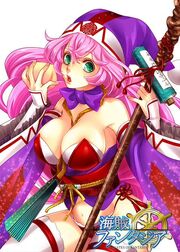 Ad blocker interference detected!
Wikia is a free-to-use site that makes money from advertising. We have a modified experience for viewers using ad blockers

Wikia is not accessible if you've made further modifications. Remove the custom ad blocker rule(s) and the page will load as expected.