"No no, that introduction makes me look like a horrible goddess! I am actually an able woman! What I can do is not something you can write in such a short passage like this. We can negotiate a little bit and stay calm. Wait? Okay fine, I think I've said enough."
— Goddess of Happiness Casilda
[Limited 7 Goddesses Card] She's the joker of the 7 Goddesses. She loves cute girls so she always teases Tamamo and enjoys harassing Seimei. However, she doesn't play around with Asuka because she never gets her jokes.
Attack:
Lvl 1 : 4250
Max  : 7893
Max+: 10260

Growth: +35
Defense:
Lvl 1 : 3950
Max  : 7519
Max+: 9773

Growth: +35






Growth Progression: [2-60]
Skill: Divine Joy
Sanctus ATK +15%

Enhance Value:
500 experience
Dismiss Value:
5880 pence
Acquisition
Edit
-Immortal Goddess Rescue during the Gods & Mortals Event.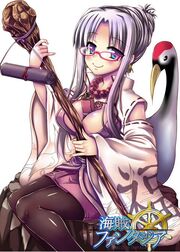 Non-English details

Japanese name
Chinese name
福禄寿春日
Voice file
Voice actor (J)
Voice actor (E)


Ad blocker interference detected!
Wikia is a free-to-use site that makes money from advertising. We have a modified experience for viewers using ad blockers

Wikia is not accessible if you've made further modifications. Remove the custom ad blocker rule(s) and the page will load as expected.