"Don't stare at me like that. It's really embarrassing. Why do I have to wear something like this? Geez."
— Goddess of Abundance Paras
[Limited 7 Goddesses Card] She is the steersman of the 7 Goddesses' ship. She waves the banana leaf, creating a wind that moves the ship forward. It's tradition for the Goddess of Abundance to be half-bare, with that in mind, Paras hopes to continue the tradition. However, every time she creates a wind, she risks a wardrobe malfunction.
Attack:
Lvl 1 : 3500
Max  : 6575
Max+: 8547

Growth: +40
Defense:
Lvl 1 : 2200
Max  : 3850
Max+: 5005

Growth: +20






Growth Progression: [2-45]
Skill: Divine Wind
Sanctus ATK +10%

Enhance Value:
300 experience
Dismiss Value:
3366 pence
Acquisition
Edit
-Immortal Goddess Rescue during the Gods & Mortals Event.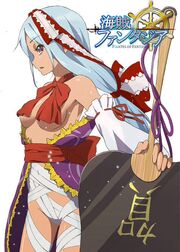 Ad blocker interference detected!
Wikia is a free-to-use site that makes money from advertising. We have a modified experience for viewers using ad blockers

Wikia is not accessible if you've made further modifications. Remove the custom ad blocker rule(s) and the page will load as expected.