Goalkeeper Opal




Rarity
★★★★★
Cost
29
Nation

Sanctus

Type

Gypsies

Combo Type
Release Date
Unknown
"If it's for my country, for my Empress, I'll have to do my best. But I really don't know about this getup! Don't take any pictures of me!"
— Goalkeeper Opal
Sanctus has drafted the very best athletes from all over the world to join its athletics teams. Somehow Opal ended up on a team too.
Attack:
Lvl 1 : 3800
Max  : 8550
Max+: 11115

Growth: +40/50/60
Defense:
Lvl 1 : 3000
Max  : 5225
Max+: 6792

Growth: +20/20/20






Growth Progression: [2-16][17-36][37-60]
Skill: Athletic Meet AL
ATK +100% /Home Run

Enhance Value:
500 experience
Dismiss Value:
3480 pence
Acquisition
Edit
-Jolly Roger Rescue (Sporty Pirates Special)
Bonus Story Information
Edit
Related to Bonus Story 25 for Pixie Archer x1, Ticket x1 - additional requirements: Curve Ball Zelia.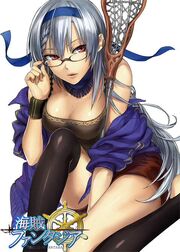 Non-English details

Japanese name
Chinese name
运动场上的阿尔特莎
Voice file
Voice actor (J)
花村晃子
Voice actor (E)
Hanamura Akiko


Ad blocker interference detected!
Wikia is a free-to-use site that makes money from advertising. We have a modified experience for viewers using ad blockers

Wikia is not accessible if you've made further modifications. Remove the custom ad blocker rule(s) and the page will load as expected.