"After one mystery revealed, the next mystery is coming out again. I'll absolutely be the mystery seeker as long as I am alive. OK, I'll continue to go to the edges of mysteries."
— Gearsmith Jorgina II
She is the Gearsmith who gained the Acheron Tome. With access to the answers she had sought, she got to know the mysteries and disasters of the future.
Attack:
Lvl 1 : 6100
Max  : 11575
Max+: 15047

Growth: +40
Defense:
Lvl 1 : 6100
Max  : 11575
Max+: 15047

Growth: +40






Growth Progression: [2-80]
Skill: None


Enhance Value:
1000 experience
Dismiss Value:
7800 pence
Acquisition
Edit
- Jolly Roger Rescue
- 9000 Valor points in the Valor Exchange Hall during the Arctic Vortex Event [Limit: 1]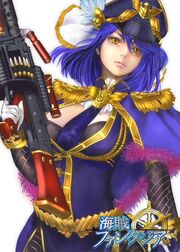 Non-English details

Japanese name
大総統バグワームII
Chinese name
大统领巴格沃姆II
Voice file

Voice actor (J)
小林ゆう
Voice actor (E)
Yuu Kobayashi


Ad blocker interference detected!
Wikia is a free-to-use site that makes money from advertising. We have a modified experience for viewers using ad blockers

Wikia is not accessible if you've made further modifications. Remove the custom ad blocker rule(s) and the page will load as expected.