"You've got some good taste for trying to hit on me. But, if you are just trying to get closer to these breasts of mine?I'll BURN you. Argh! BUT you won't be like that, right?"
— Explosive Flame Lapis
A sorcerer girl who is an expert at fire magic. She has the kindest heart out of all the Circle of Ten but she is also the most impatient one. She loves her colleague Ruby, but Ruby actually hates her.
Attack:
Lvl 1 : 4350
Max  : 8018
Max+: 10423

Growth: +35
Defense:
Lvl 1 : 4050
Max  : 7643
Max+: 9935

Growth: +35






Growth Progression: [2-60]
Skill: Torrent Firestorm
Sanctus ATK+20%

Enhance Value:
500 experience
Dismiss Value:
5880 pence
Acquisition
Edit
-Awarded to the Top 300, Rank 400-405 and Rank 1000-1005 players who collected the most Gold Bars during the Crush the Rebellion Event.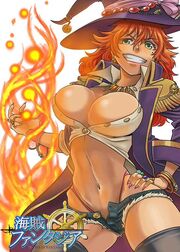 Ad blocker interference detected!
Wikia is a free-to-use site that makes money from advertising. We have a modified experience for viewers using ad blockers

Wikia is not accessible if you've made further modifications. Remove the custom ad blocker rule(s) and the page will load as expected.