"I'm Morisa's mother. I hadn't intended to reveal myself, but I wanted to thank you all for helping my dear daughter. Sorry for subjecting you to an old lady like me."
— Everyone's Mother Momeow
Morisa's mother has a penchant for displays, and here she is showing that off.
Attack:
Lvl 1 : 3600
Max  : 8300
Max+: 10790

Growth: +40/50/60
Defense:
Lvl 1 : 1600
Max  : 3475
Max+: 4517

Growth: +20






Growth Progression: [2-16][17-36][37-60]
Skill: Corona Flare
ATK +50%

Event Skill: Supernova
+60% Damage in Event battles during the Land of Falling Stars event
Enhance Value:
500 experience
Dismiss Value:
3240 pence
Acquisition
Edit
-Event Rescue during the Land of Falling Stars Event
- Watermelon Rescue during the Watermelon Party Event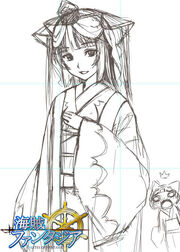 A sketch of Everyone's Mother Momeow was released.



Non-English details

Japanese name
みんなの母親オカアニャン
Chinese name
大家的母亲欧卡喵
Voice file
Voice actor (J)
Voice actor (E)


Ad blocker interference detected!
Wikia is a free-to-use site that makes money from advertising. We have a modified experience for viewers using ad blockers

Wikia is not accessible if you've made further modifications. Remove the custom ad blocker rule(s) and the page will load as expected.